You may be an influential, global nonprofit organization, a small but mighty local group, or just founded an organization yourself. The key to financial success is a strategic fundraising plan.
You will set yourself up for failure without a well-thought-out plan in place. That's your foundation. You can't run an entire organization on your own or with the help of just a few people. In this guide, you will learn about common fundraisers, the predominate ways non-profit organizations raise money, and lastly, how to create a dependable fundraising plan in seven steps.
Fundraiser Definition
A fundraiser is a social function or activity held to raise money for a specific purpose or cause, typically for a charity or a political party.
Types of Fundraisers
Fundraising events can bring in significant revenue, as well as exposure, to nonprofit groups. However, they may require extensive time to plan and market, significant upfront costs, and no guarantee for a high ROI.
Therefore, fundraisers should only be a small component of your funding efforts. Fundraisers take form in many renditions, from local bake sales to highly publicized galas. Here are a few events you may wish to implement in your planning:
Fun runs and walks can be easy and inexpensive to plan and offer a high return on investment. The event may take place on a community trail and not require special permits and road closures, as marathons demand. Fun runs and walks are often a good choice for smaller groups.
Art exhibitions provide an opportunity for members of the community to display their works for a great cause. Artists can show their works with the intent to sell and donate back a portion of their proceeds to the charity.
Benefit concerts may be high-profile celebrity events streamed on television or they may feature local talent accessible to family and friends. With a fundraising app, you can ask bands and organizers to set up team pages and fundraise in the weeks leading up to the show.
Silent and live auctions give incentive for donors to open their wallets. They provide guests with engagement and entertainment while they socialize. Auctions are particularly useful at major fundraising events such as a galas or golf tournaments.
Galas are large-scale fundraising events that may include dinner, dancing, speakers, entertainment and auctions or raffles. Galas are often the largest event a non-profit will hold and can require extensive, expensive planning. Due to large upfront guests, galas are most beneficial for larger organizations; the ROI for smaller groups tends to be lower.
Whether you are arranging a pie eating contest in the country or a charity ball at a five-star venue, guests should be able to tell you about your nonprofit, its mission and why they became involved. If not, your impact will be short-lived. In person events are often transactional (focus on a one-time donation), rather than transformational (turning supporters into long-term donors). So, it's important to not rely on fundraisers for your sole funding.
Tip: to increase your event's ROI and decrease upfront costs, you may decide to add and connect your event to a mobile fundraiser with Karelane's platform. Karelane is very user-friendly. It does not charge a fee or take a percentage of donations like most online fundraising tools.
Ways to Raise Money for Charities
Charities rely on a mix of sources for their income. Funding may come from individuals, foundations and government sources, to name a few. It's important to diversify your revenue streams. Here are the most common types of ways to raise money.
Individual Donors
Of all donations given to nonprofits, over 70% come from individual donors who make one-time or recurring gifts. Individual donors may be major donors or mid to low-level donors.
Nearly 90% of total dollars raised comes from just 12% of donors so it's important to focus efforts on major donors. What is considered "major" may vary widely from a grassroots group to an established, multi-million dollar organization.
You may wish to seek individual donations of all sizes through crowdfunding – funding a project or cause by raising money from a large number of people, typically via the web or a mobile application like Karelane.
Download the Karelane app to create a "Kare" group, set-up a fundraiser, and invite your network to join the group and donate to your cause. In Karelane, you can create a 'Public' group where all users are able to see your cause and contribute, or a 'Private' group where you determine who is able to view your cause and make a gift.


Foundations
Foundation funding often comprises a small portion of a non-profit's income but can play an important role in funding new programs or strengthening existing ones. Some foundations give grants for general operating costs. Many prefer to fund specific programs and often require detailed applications and reports.
While foundations are often primarily engaged in grantmaking activities, some may engage in their own direct charitable activities or programs. The IRS classifies all 501(c)(3) organizations into two distinct types: private foundations and public charities.
Private foundations are supported by one or a small handful of sources – an individual, family, or corporation. International foundations and private operating foundations are also considered private foundations. All private foundations must pay out at least 5% of more of its assets in grants (except private operating foundations).
Public charities that primarily make grants are commonly referred to as public foundations. They receive their funds from multiple sources which may include private foundations, individuals, and government agencies. Examples of public foundations include: statutory public charities and supporting organizations.
Corporate Giving
Corporations give to nonprofits in a variety of ways. Some corporations have their own corporate foundations which give in a similar way as private foundations. Others may sponsor events or provide in-kind donations for an event or program.
Corporate Social Responsibility (CSR) refers to the practices and policies undertaken by corporations that aspire for positive social impact and influence. Corporations implement CSR to pursue pro-social objectives in addition to their main purpose of maximizing profits.
Government Funding
You may wish to pursue government funding – local, state, federal or global. Nonprofit sectors such as healthcare, research, education and public media are examples of organizations that only rely on government funding. Governments may provide major, multi-year grants but their applications are long and intensive with significant oversight and reporting requirements.
Fees for Services and Sales of Goods
Many non-profits charge for fees for their services. For example: hospitals bill patients; museums have admission fees; theaters sell tickets; civic groups and associations charge dues; and colleges require tuition. Fees for services may be the predominate way to raise money.
Other nonprofit groups, particularly well-known ones, can rely on the sale of branded goods e.g. Girl Scout cookies.
When it comes to raising money for your organization, it is critical to have a fundraising plan in place that includes a mix of funding sources and opportunities.
What is a Fundraising Plan?
A fundraising plan is a written document that demonstrates the planning of your organization's fundraising efforts over a set time period. It is often one fiscal year but may also take place over say three or give years. Your plan may encompass financial goals, campaign dates and strategies, donor-tracking plans, and marketing and communications tactics to help you achieve your goals.
The plan is designed to keep you focused and on-task throughout the year.
Fundraising Plan Checklist
With the abundance of fundraising advice, sources, strategies and tools, you may be confused and overwhelmed. Download our checklist to help guide you as you're just getting started, revamping, or revising your fundraising efforts: Fundraising Plan Checklist (hyperlink link to one-page checklist).
How to Fundraise by Following our Plan
We offer seven steps to keep you on track, and ultimately, make your fundraising efforts easier, more efficient and successful.
Step # 1 – Define your Vision and Mission
It's essential that you have a solid understanding of who you are as an organization. It's helpful to outline your mission and vision at the start of your planning. In evaluating your mission, ask yourself "what is the main issue?" and "how will your organization mend it?" Determine why your vision is important on a global scale, or just on a personal level within your community. Assess, identify and adhere to your values.
Lastly, in the sea of nonprofit organizations, consider what sets you apart and brand your nonprofit accordingly. Ensure your mission, vision and values remain top of mind while you plan, execute, and accomplish your goals.
Step # 2 – Set Your Fundraising Goals
Your fundraising goals should align with your organization's mission and help you focus and prioritize your work. Identify the amount of money you need to raise, and what the funds will go towards.
Goals should be identified with your organization's management, the Board of Directors, and development staff. Reflecting on prior goals and their success or shortcomings will help guide your current goal setting. Also, follow the SMART acronym:
Specific: Your goal should state exactly what you are looking to accomplish by identifying a tangible outcome. Use concrete metrics or percentages in order to ensure specificity of your goal.
Measurable: Stating quantitative metrics takes the guessing out of measuring your progress.
Attainable: Set a goal that is realistic in relation to the size and scope of your organization. Creating a challenge can be great for motivation, but setting sky-high goals may set your team up for disappointment and under-funded programs.
Relatable: Choose a goal that is relevant to your organization's mission. A relatable goal is important for engaging with your team and supporters. For example, show your donors how much their donations will give back to the community: "a gift of $50 will provide for three meals at the food bank."
Time-based: Establishing deadlines allow you to measure your progress toward a target date. A deadline makes it possible to track development through the stages of your fundraising plan.
Step # 3 – Detail your Methods
After you have aligned your goals and mission, it's time to decide your methods — how you will be raising funds. Your fundraising strategies may entail:
In person asks from major donors
Calling mid to lower-level donors for individual donations
Direct mail fundraising solicitations
Digital fundraising appeals
Fundraising events
Grants
Corporate giving and partnerships
Trusts and estates
Online and mobile fundraising via a free platform such as Karelane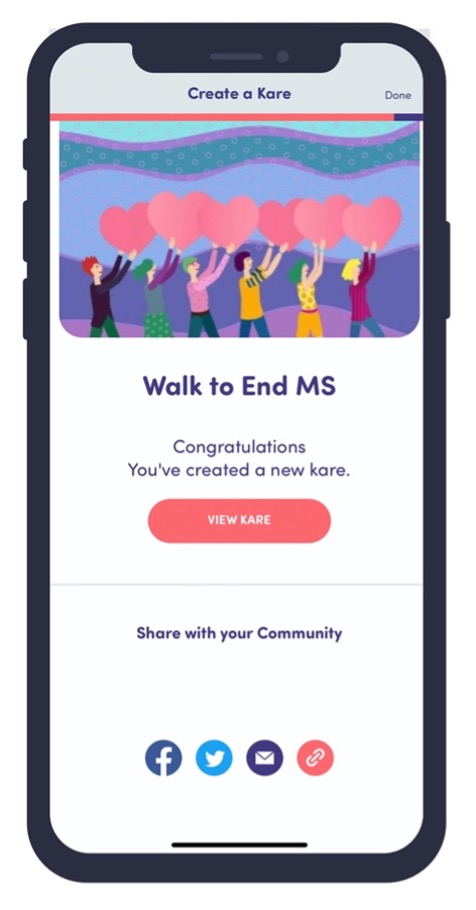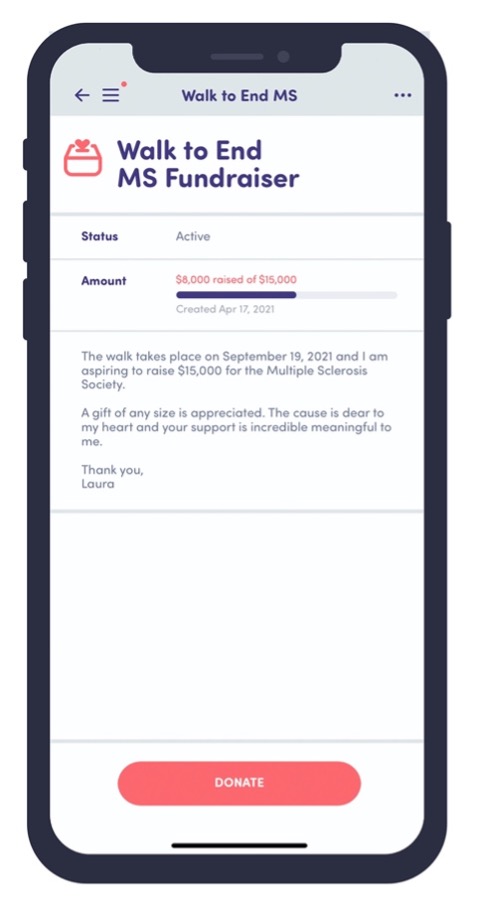 It's important to delve into each fundraising method. Outline detailed steps that need to take place before and during each activity. Delegate staff, volunteers, Board members and any other participants.
Consider both short-term and long-term activities – what can you focus on now, and what can you potentially expand in the future to meet unmet goals? Lastly, don't forget to include steps to take after each activity.
Step # 4 – Donor Stewardship
Your fundraising will not be successful in subsequent years, or even months, if you do not properly cultivate your supporters post-donation. While attracting new donors is important, appreciating your current donors and nurturing those relationships is just as important. Stewardship requires more than a generic thank you letter.
Here are a few methods to incorporate:
Tailor and personalize your thank you letter for every donor
Make personal thank you calls after each gift
Continue meeting one-on-one with major donors, and consider traveling to visit your most predominate donors
Write hand-written thank you notes
Send holiday greeting cards
Disseminate frequent digital newsletters, highlighting programs funded by your donors
Deliver an annual report detailing donors' impact
Host a complimentary donor appreciation event
Step # 5 – Create a Budget
Once you have identified your methods, you will need to create budgets. Forecast how much each fundraising activity will cost and how much revenue each will bring in. You should also estimate how much time each activity will take for your staff and volunteers – time is money.
Your estimates will help you determine which activities are feasible and smart to carry out, and which you should postpone or cancel. Stay on track by setting revenue goals and monitoring your progress.
While each method should have its own budget, keep a master fundraising budget on hand as well to view the larger picture. A master budget will help you keep track of your spending and revenue in each area, as well as your overall fundraising effort. It will also enable you to compare how the organization fares against the prior year's fundraising results.
Step # 6 – Develop a Calendar
At last, you have set your goals and activities and you need to schedule them in a calendar to stay on task throughout the year. Consider your campaigns, grant deadlines, communication schedule, events and other planned activities. Map them out by month of the upcoming year.
The calendar will allow you to look at your year in a glance and strategically set dates. For example, you will likely start your year-end donor appeal in October or November. You may arrange your annual gala during the timeframe of November through May, and your youth programs will take place in July and August.
Keep your fundraising calendar on-hand at every development meeting. It's a critical supplement to the overall fundraising plan. It will motivate you to accomplish your goals, and it's practical and necessary to stay organized.
Step # 7 – Write Down Your Plan & Evaluate
You are now ready to compile your information and put it in to a document – your fundraising plan. Keep in mind that your fundraising plan can change at any point, so remain flexible, as 2020 has taught us. Your document is not intended to be static or set in stone.
Lastly, plan to evaluate your progress on a monthly or quarterly basis – evaluation will improve your results. Develop which criteria to use such as the amount of money raised, number of recurring and new donors, and grant awards. We hope that taking the time to develop a thorough fundraising plan will pay off in time. Good luck!